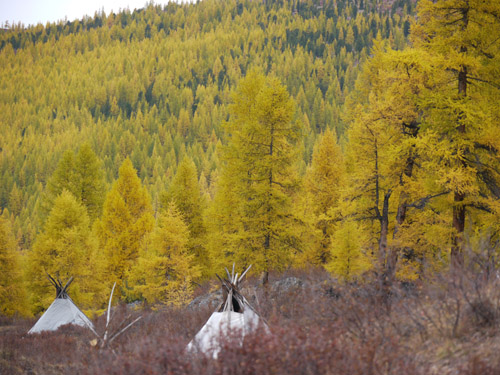 Uran, Togoo, Tulga, Jalavch Mountains:These mountains are located about 80km northwest of Bulgan city, in Unit Brigad'sKhutagOndorsoum, are located 7Km north of the Khan Khentii range. The Uran valley is at an altitude of 1420m to 1450m and is surrounded by Jalavch, Ikhtogoo, Tulga, UranBurkheer Mountains at about 6 – 7km distance. Tulga Mountain is at an altitude of 1540m and Togoo looks reminiscent in shape to three stones placed around a heart in a ger.UranBurkheermountain has an altitude of 1688m and is 500-600m wide and 50–60m deep.
Altanbulag: Just 24km to the East of Sukhbaatar is Altanbulag, a small, peaceful border town in the sum of the same name. Just on the other side of the border is the Russian city of Kyakhta. From the border, you can easily see the abandoned, but once opulent, Kyakhta Cathedral. The Mongolian government recently decided to allocate 500 hectares at Altanbulag as a Free Trade Zone for the development of trade with Russia. Hopefully, this will be more successful than the Free Trade Zone in Choir, in Dornogobiaimag.
Both Kyakhta and Altanbulag are of some historical importance to Mongolians. In 1915 representatives from Russia, China and Mongolia met in Kyakhta to sign a treaty granting Mongolia limited autonomy. This was later revoked when China invaded again in 1919. At a meeting in Kyakhta in March 1921, the Mongolian People's Party was formed by Mongolian revolutionaries in exile, and the revolutionary hero Sukhbaatar was named minister of war.
Darkhan: (one of small city of Mongolia) Population 95,500. Darkhan is the second largest city in Mongolia. This city is, in fact, not part of Selengeaimag, but an autonomous municipality, Darkhan-Uul. The city was built in the middle of nowhere in 1961 as a satellite town to take pressure off the sprawling Ulaanbaatar, and as a northern industrial centre. Darkhan, which means 'blacksmith', is a modern, sterile place. Fortunately, Darkhan's designers put a little thought into urban planning, so the industrial smokestacks are on the South side of town and the pollution is carried away from residential areas by the relentless northern wind. The Russians designed the city in their image and a sizeable Russian community still lives in Darkhan.
Amarbayasgalant monastery (Khiid): The star attraction of Selengeaimag, this monastery is considered the second most important in Mongolia (after ErdeneZuuKhiid in Kharakhorin) and the most intact architectural complex in Mongolia.
AmarbayasgalantKhiid was originally built between 1727 and 1737 by the Manchu emperor Yongzheng, and dedicated to the great Mongolian Buddhist and sculptor, Zanabazar, whose mummified body was moved here in 1779.
The communists found a way out here in the late 1930s, but 'only' destroyed 10 out of the 37 temples and statues, possibly because of sympathetic and procrastinating local military commanders. The monastery was extensively restored between 1975 and 1990 with the help of Unesco. These days, around 50 monks live in the monastery, compared to over 2000 in 1936.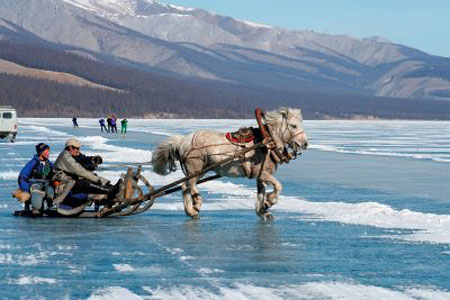 KHOVSGOL NUUR: Try to imagine a 2760 sq km (1080 sq mi) alpine lake, with water so pure you can drink it. Then add dozens of 2000m (6560ft) mountains, thick pine forests and lush meadows with grazing yaks and horses, and you have a vague impression of KhuvsgulNuur, Mongolia's top scenic heartstopper. This is the deepest lake in Central Asia, and the world's 14th largest source of fresh water. Situated along the border with Russia, the lake is sacred to local Mongolians, who refer to it as 'mother'. It's full of fish and the area is home to sheep, ibex, bear and moose, as well as over 200 species of birds. There are numerous caves around the lake, though they're hard to find without a guide. Three separate peoples live in the area: Darkhad Mongols, Buryats and Tsaatan. An amazing 90 rivers flow into the lake, but only a single river flows out – the EgiinGol, which ultimately reaches Lake Baikal in Siberia. KhuvsgulNuur freezes in winter, allowing huge trucks carrying fuel to cross from Siberia. Visitors can kayak on the lake when it unfreezes and hike or ride on horseback (or yakback) around it. The southern boundary of KhuvsgulNuur is about 775km (480mi) north-west of Ulaanbaator and is reachable by occasional plane, bus or your own jeep. The best time to visit is in spring (around April and May). It's still very cold at this time and the lake may be frozen. The summer (July and August) is warmer but more crowded. Permits are required to visit the lake. They're available on the main road into KhuvsgulNuur National Park, a few km before the southern entrance at the town of Khatgal. It is impossible to imagine Mongolia without the uniquely magnificent and pristine land of Khuvsgul or Lake Khuvsgul. Lake Khuvsgul covers an area of 2760sq.km and exists at 1605 m above sea level. Khuvsgul is the deepest lake in Central Asia, with a maximum depth of 262metres. Its water is crystal clear and fresh.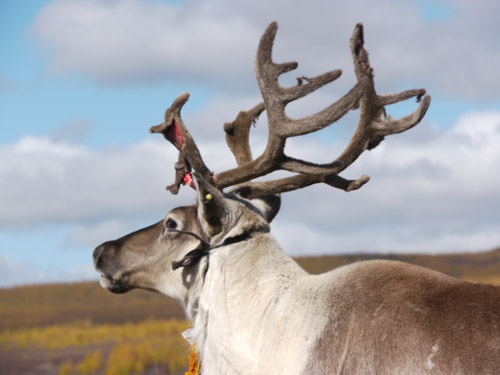 Tsaatan (Reindeer people) Visit nomadic families with their herds, including the remote reindeer people along the Russian border who live in wigwam styled tents, like the North American Indians.
Cave at Dayan Derkh: The cave is located at a site called ErdeneBulgan, on the east bank of the TsagaanUur River, 30 km southeast of the sum centre. The cave has many passages and rooms on 2 floors; it is a total of 224m long and is one of the most impressive in Mongolia, with more than ten side galleries, dozens of openings and a mineral spring.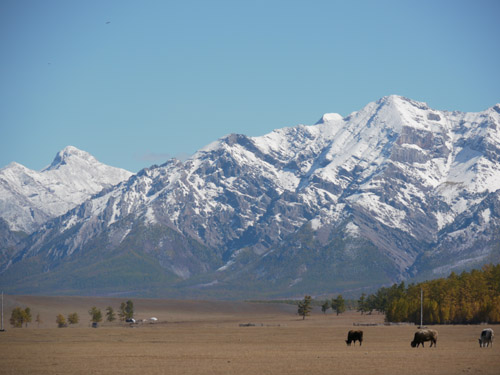 KhoridolSaridag Mountain: KhoridolSaridag Mountain has borders with Khovsgol National Park on the western side and was designated to protect a unique combination of landscape and wildlife habitat. It comprises of a steep sided mountain range with a combination of tundra, taiga and forest steppe all in very close proximity. The mountain of KhoridolSaridag has a Siberian breed of reindeer. It was decreed as KhoridolSaridag Strictly Protected Area in 1997 and has an area of 1886km².
Darkhadkhotgor: Between KhoridolSaridag and Ulaan Taiga (a National Protected Area of 1,080km² lands, designated in 2003) continued 100 km. DarkhadKhotgor is inhabited by the Kharilt and Tsagaan ethnic groups. It has many lakes and rivers.
Sangiin Dalai Lake: The Lake is located on the southwestern part of the aimag near the border with Zavkhan. This large lake is at an altitude of 1980m.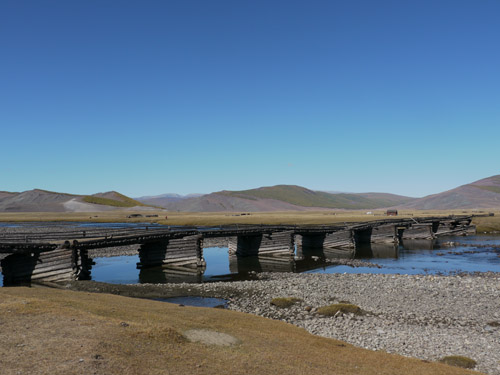 Shishged River: The Shishged River flows to the north from Tsagganuur and has many rapids and white water; it flows down a narrow valley out of Mongolia into the Russian Federation.
Olongoliin belcher: is flowing for 452Km from the Khangai mountain range into the Delger Moron (From Ulaan Taiga Mountain (An area with high mountains decreed in 2003 as a Strictly Protected Area of 1080km².) the Delger Moron flows for 445 km and when combined with the Ider River it becomes one of the longest in Mongolia) and Selenge Moron rivers. This area is located near to the Moron main road and Tosontsengelsoum.
Ider River:Ider and Selenge cross the southern part of the province, joined by the Delger Moron which flows from the northwest through Moron.